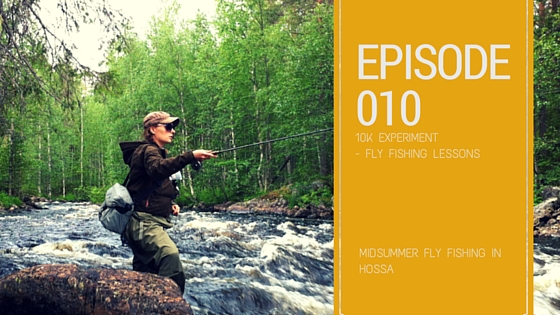 Juhannus means midsummer, nightless night when the sun doesn't set at all. You can stay up all night fishing as it doesn't get dark. (At least those can, who don't need their 9 hours of solid sleep every night).
It's magical.
And what better place and way to celebrate that, than camping and fishing in the national park Hossa in Suomussalmi/Finland.
A great crew, nice waters, beautiful weather (including very beautiful rain time to time). What else do you need?
Check out the Part 1 of the Juhannus weekend here.
Part 2 of the Juhannus weekend coming soon on the next vlog episode.
Episode 010 of 10K Experiment – Fly Fishing Lessons
Hours 43 to 67 out of 10000. Fly-fishing at Hossa in Kainuu, Finland. Lounatkoski River and Umpivalkeinen Lake.
PS. Click here to find my ebook Hulahula Fly Fishing on Amazon: https://amzn.com/B015CYKWBA