Interview of Patricio Mac Allister by Anni Yli-Lonttinen
Working in the fly-fishing industry has changed things for me. I feel lucky to be a part of it.
But I always remind myself that fly fishing is about those moments when you're in the water. Immersed in Nature and concentrated only on catching a fish; those moments when you're fishing or just resting by the bank.
I believe in the values that are usually linked to fly fishing, like protecting the places we visit.
---
Article series:
Meet the Fly Fishing Idols
– stories and lessons from the yesterday's beginners
---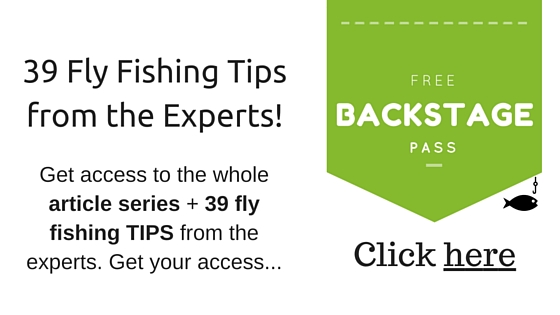 How did you learn fly fishing?
I used to live in a small city in Argentina where a very nice stream flows. Being by the water was the thing I liked the most, so I took on fishing from a very young age. I started catching fish with bait, then spinning with spoons and lures, and later on I got into fly fishing with the help of an uncle.
What was your first touch with fly fishing.
My first big memory has to be when I caught my first fish on the fly, on that same stream… Still remember that nice "dientudo".
Why did you get interested about fly fishing in the first place?
In those times with no internet, I used to read fishing magazines and always loved the pictures and articles about fly fishing for trout in Patagonia. I think it was kind of a natural progression, going from bait and spinning to fly fishing.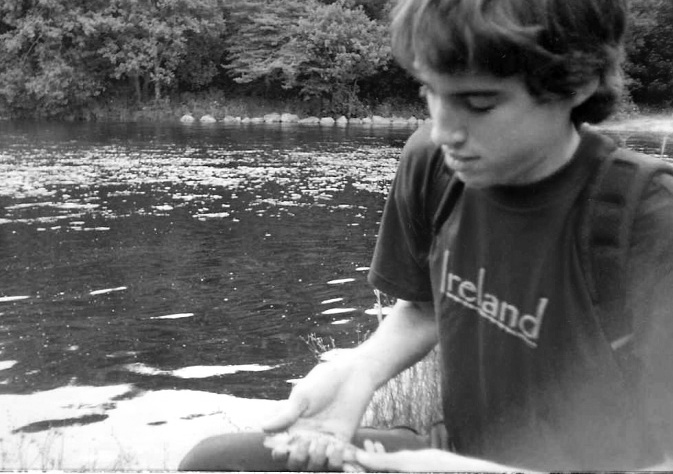 How did you learn it?
I didn't know how to cast and didn't know much about choosing flies either, but my uncle gave me my first casting lessons, on the grass. Then I spent several summers casting as much as I could in the local stream. That, and also reading some theory, helped me.
Later on, I started going to Patagonia every summer. I made a first trip with my friends, then a couple with my family, and I even made some alone. I felt like I had to be there at least once a year. I learnt a lot from mistakes in those times, and also took advice from other fishermen.
Why do you like fly fishing?
As a fishing method, I enjoy things like casting when I'm not catching anything, feeling the take right on my line, fishing with different techniques and flies, the fact that one can always learn new stuff…
I also believe in the values that are usually linked to fly fishing, like protecting the places we visit and releasing the fish.
Something special about it?
I have always played several sports and enjoyed them very much, but I think that what makes fly fishing special for me is spending time out there in Nature and interacting with it, being in the great places where fly fishing takes us, and also that feeling of connecting with a fish, that is so hard to explain to someone that is not into fishing.
What does fly fishing mean to you?
I think working in the fly-fishing world changes the meaning of it for many of us.
I love everything that comes with the industry and I feel very lucky to be a part of it, but I always remind myself that -for me- fly fishing is about those moments when you're in the water, immersed in Nature and concentrated only on catching a fish; those moments when you're fishing or just resting by the bank and nothing else seems to matter. I think Robert Traver sums it up in his Testament of a Fisherman.
What's your favorite place for fishing?
I had great times catching trout with dry flies in the Lago Huechulafquen, in Patagonia, so I'd probably go for that one.
Still, I hope to have new favorites as time goes by.
What's your favorite fly?
I have great memories with the Marabou Muddler, I used it a lot in my early days. But I also love other classic flies like Dave's Hopper, Humpy, Madame X, simple emergers and Klinkhammers.
What is your top fly fishing memory?
Hmm, tough one… Some years ago, my friends and I were doing a long road trip through Patagonia. After a couple of weeks, we arrived to a lovely house in a town with a small river where we would rest and also do some fishing.
One afternoon, as we were walking upstream and fishing for small trout, we reached a very slow and deep pool. One of the guys told me a big fish had followed my fly there without taking it, so I climbed a big rock to look for the fish. I saw a beautiful big rainbow cruising by and eating. Then, I went on to present my fly.
I must have thrown half of my flies in the box that day, but the big fish finally took a forgotten wet fly I had. We all had to collaborate to get the fish out as I struggled getting down from the huge rock.
It was a great moment, and I couldn´t take the smile off my face that day.
Do you have a fly fishing related dream or goal?
Yes, I have a small nerdy list that includes species and places.
Right now, it has things like getting more into golden dorado fly fishing here in Argentina and bigger dreams like catching Cuban bonefish and tarpon, Irish salmon, maybe steelhead in the US…
Luckily, I had the chance to check some goals like "brown trout in Ireland and France" and "sea-run browns in Tierra del Fuego", and I'm really looking forward to a trip in Strobel/Jurassic Lake next month.
Patricio's TOP 5 TIPS for learning fly fishing:
Practice casting. And once you have a decent cast, remember that fish don't care about it; then think about how the fly interacts with the fish
Read and watch videos
Go fishing as much as you can
Remember that catching a fish with a fly is easy. Don't get caught up in theories and words
Have fun
---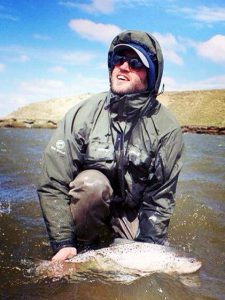 WHO:
Patricio Mac Allister
Currently working in the fly-fishing industry in Paris, France, Patricio used to be the Communications Manager at Flydreamers.com, the global fly-fishing network, and the Editor of their print magazine in Argentina.
Before Fly dreamers, he worked for ESPN's Patagonic Waters, a TV show destined to the fly-fishing audience in Latin America.
Favorite fishing place: the Lago Huechulafquen, in Patagonia
Favorite fly: the Marabou Muddler brings great memories from my early days
Website: http://singingreels.blogspot.fr/
---
In this article series you get to know and learn from fly fishing enthusiasts around the world. Find out how they got started with fly fishing. And what makes them so enthusiastic about fly-fishing.
With a backstage pass you get access to the whole article series plus a whole lot of awesome tips from these pros. 
Get your Backstage Pass here: