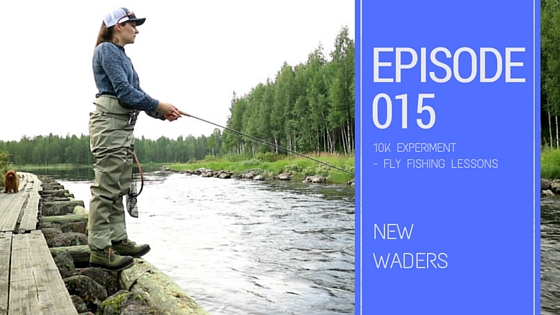 In 2014 I made a firm decision to correct a major flaw in my fly fishing gear!
At the time, I was fishing in Sweden, two day walk away from the nearest road. And my waders leaked so that after each fishing day I would pour about 3 dl of water from the other sock. So a decision was made. I would need new waders!
2 year later, I got them.
I'm the world's worst person when it comes to shopping. It's so annoying.
But finally I have proper waders.
This week I'm heading out for Lapland and North Norway for THE trip of the year. It's been pretty hectic before the trip, but getting new waders was a perfect excuse to sneak in few hours of fishing on a Monday night.
Watch the mini fishing trip from the Episode 15.
Episode 015 of 10K Experiment – Fly Fishing Lessons.
Hours 104 to 107 out of 10000. Fly-fishing in Kuhmo, Finland.
PS. For more fly fishing stuff including 4 lessons + a cheat sheet, you can sign-up here: (it's free)  https://kajanaclub.leadpages.co/miniacademy-4/