Interview of Lotte Aulom by Anni Yli-Lonttinen
In the beginning I sometimes just picked the fly that I thought looked nice. My husband tried to teach me fly fishing technicalities, without me listening. 
Somehow I managed to hook my first fish and was super happy having that little thing in the net. The first fish sparked an excitement that hasn't fade off.   
Being able to share this hobby and passion with my husband just makes it even better. I'm still no expert on the technical things. But today fly fishing means a good break from the everyday life, the stress from work, paying bills and watching the clock all the time.  
---
Article series:
Meet the Fly Fishing Idols
– stories and lessons from the yesterday's beginners
---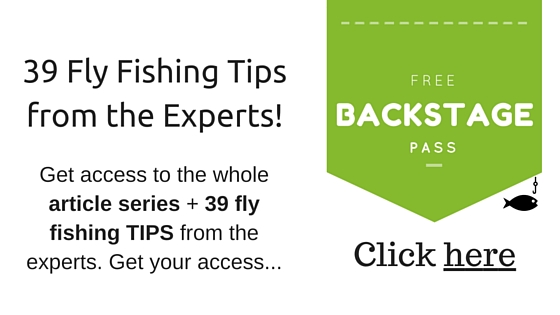 How did you learn fly fishing?
My first ever memory with fly fishing was back when I was about 10-12 years old. My grandpa gave me a fly fishing rod and some funny looking flies. Back then I was only interested in fishing with live worms and spinners. So the rod was placed in the shed and forgotten.
Things changed when I met my husband 5 years ago. He took me on a trip to nearby water and pushed me to try fly fishing. First a little practice casting and then I got to cast on a rising fish. Lucky, both for him and for me, I figured out how to get the fly out, and the fish took my fly. Somehow I hooked the fish and was super excited having this little fish in the net. The fish was hooked in the back, so it felt so much bigger than it was. And that was it! The next time we took a trip outdoors I already had waders, jacket, my own fishing rod and lots of expectations.
The interest of fly fishing comes from it being a bit challenging. Fly fishing is not the easy way to catch fish.
Was there anything especially difficult about learning to fly fish?
It was hard in the beginning to find out what the fish were eating and what fly to use. Sometimes I just took the one I thought looked nice.  But it was so fun and exciting when I had the right fly, the right cast and the right strike.
My husband tried to teach me about the insects, the names of the may flies and how it all worked, without me listening. I felt that it got too complicated and it took me some years before I did get interested about those things. But as soon as I got hang of the fishing part a bit more, I also got the interest for all the things happening around.
Still today I am no expert on the technical things. I just do it how I like. And study and learn more about the things which I find interesting.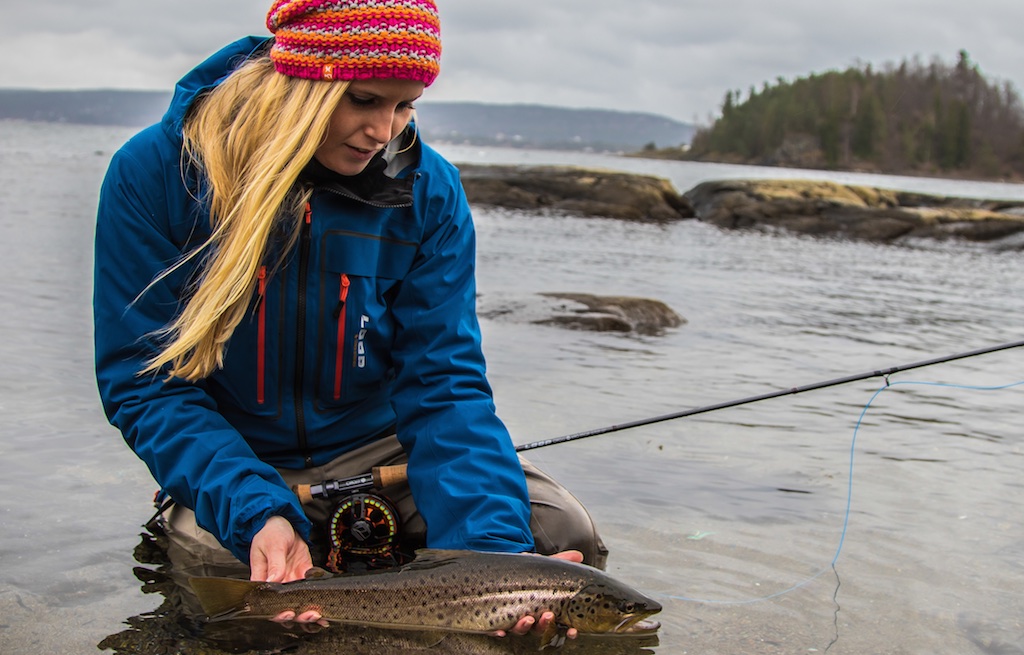 What makes fly fishing so special?
Today fly fishing has a great meaning to me. It is a good break from the everyday life, the stress from work, paying bills and watching the clock all the time.
When I am out by the water or a river, I forget all of those things and just simply enjoy! And being able to share this passion with my husband just makes it even better. The thrill when we find a steady rising fish, the relaxing silence, exploring new places and beautiful nature.
What's your favorite place for fishing?
I have many favorite places. Some of which I will not say the name of. But Borgund river and Hemsedal river in Norway are places where I love to fish.
I have also gotten a special feeling for Slovenia and the fishing there. The nice people, the beautiful nature and the amazing rivers.
What is your top fly fishing memory?
I feel I have been very lucky my first four years with the fly rod. I got a good start with lots of great trips. I don't have only one favorite moment, I have so many.
And my goal is to have many more.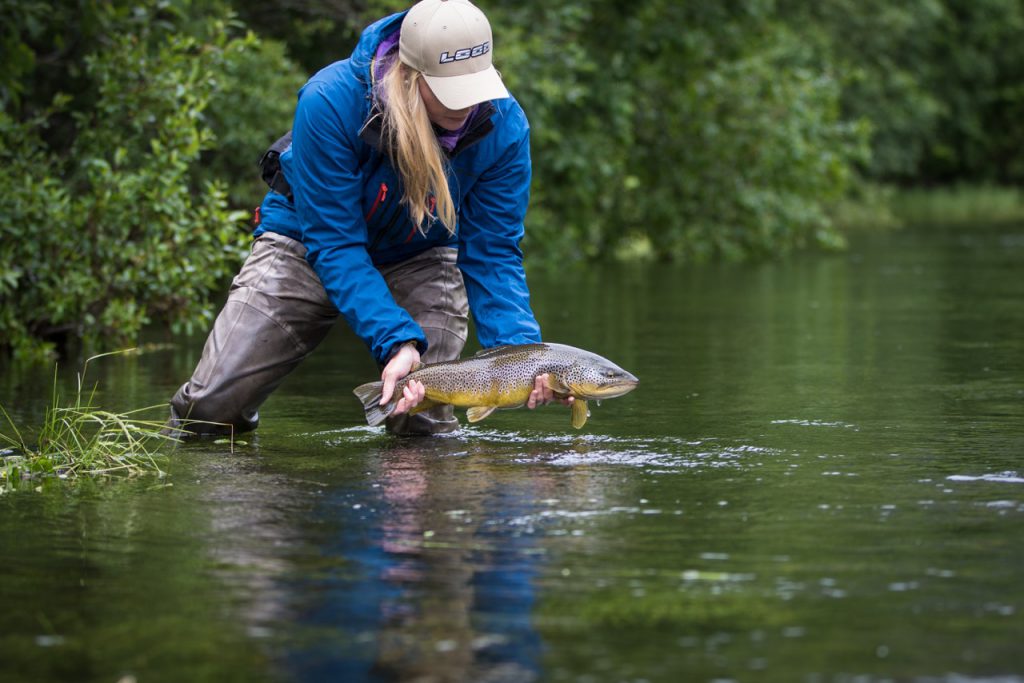 Do you have a fly fishing related dream or goal?
I blog about my fishing trips with pictures and video, and I hope that I can inspire more women to try fly fishing.
My list of places I want to visit is very long, from trout fishing in New Zealand to salmon fishing in Canada. And some tropical fishing is also on my bucket list. I know that there will be so much good memories to come in the future.
Lotte's TOP 5 TIPS for Learning fly fishing:
Patience
The right equipment. (The equipment that fits you and your methods. There is a bigger difference than you think)
Someone who can show you the basics in an easy way.
Someone who tells you the most important things right away.
Go fly fishing!
---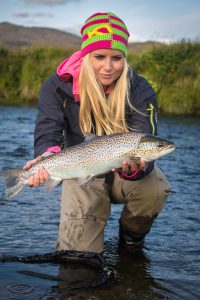 WHO
Lotte Aulom
Blogger from Norway
Started fly fishing at the age of 23
Favorite places for fishing: Norway and Slovenia
Blog: www.reelgirl-flyfishing.com
Facebook: www.facebook.com/reelgirl-flyfishing
Instagram: www.instagram.com/lotteaulom
Vimeo: www.vimeo.com/user18294167
---
In this article series you get to know and learn from fly fishing enthusiasts around the world. Find out how they got started with fly fishing. And what makes them so enthusiastic about fly-fishing.
With a backstage pass you get access to the whole article series plus a whole lot of awesome tips from these pros. 
Get your Backstage Pass here: