Interview of Jyrki Holopainen by Anni Yli-Lonttinen
Catching my first rainbow trout with a fly sparked an interest towards fly fishing, which I don't see wear off any time soon.
Always wanting to be out fishing, at the age of 9, I had strict rules like wearing a life jacket and not wading beyond an agreed mark.
Nowadays fly fishing is still my lifeline, and I dream of getting our fishing waters and vulnerable fish species in better condition.
---
Article series:
Meet the Fly Fishing Idols
– stories and lessons from the yesterday's beginners
---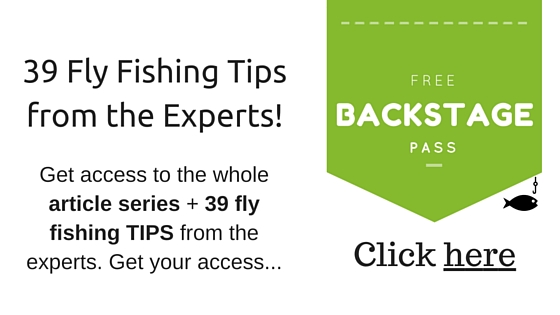 How did you learn fishing?
My best friend Aku's dad had always a spin rod and a fly rod on our fishing trips together. I often watched him fly fishing and the casting looked so elegant and when he was playing a fish it looked so different and intriguing. All the equipment like rods, reels, lines and flies looked magical for a young boy. On those trips I tried fly fishing for the first time. Already the same summer I needed to get my own fly-fishing equipment.
The first ever catch was definitely a memorable moment. I can't quite remember how old I was, maybe around 9, but I remember that rainbow trout very well.
My dad had made me waders by cutting and gluing sleeves from an old rain coat to my rubber boots. And I had a ski pole as a wading staff. I was alone in the river near by my home that morning, when I felt a take on my red store-bought fly. By then I had caught some pike, perch and rainbow trout on my spin rod. But this was the first sizable catch on a fly. The fish felt totally different and wilder on a fly rod.
During the fight I was totally panicking. I tried to think how to land the fish. My whole body was shaking and adrenaline was rushing. Finally as a panic solution I hit the fish with my ski pole. Only after the fish didn't fight any more I dared to wade back to the shore and once I reach the land I just pulled from the line and got the fish to the sandy river bank.
I ran home and got my dad to come back with me to identify the fish. He told it was a rainbow trout, and that I had caught some before with a spin rod from a pond. I had been so excited of my first ever fly catch from a river that didn't recognize the familiar fish species. My dad praised me, but told me to take a landing net with me next time.
That rainbow trout sparked an interest towards fly fishing and I don't see that wear off any time soon.
Did you have someone to teach you in the beginning?
My father and my best friend's father Seppo, were the ones who taught me casting. But to fish, I wanted to learn on my own. I've always been stubborn that way.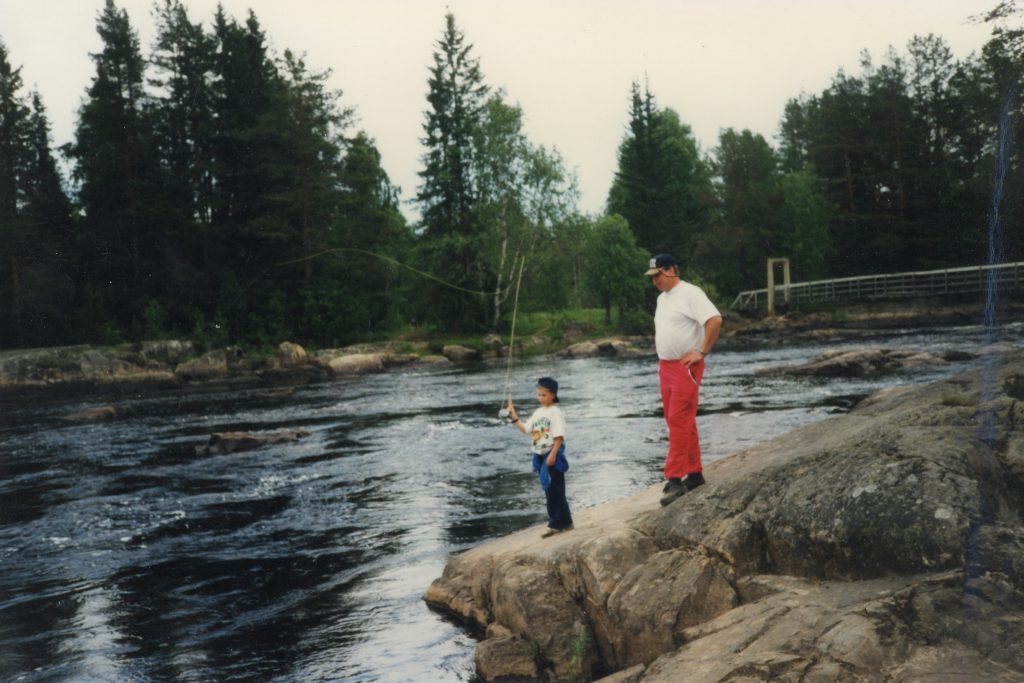 We practiced casting technique and rhythm on a lawn with my friend Aku. I absorbed the technique fairly quickly.
My dad didn't always have time to go with me and so I was begging to go alone. And finally I got permission to start fishing on my own. As long as I remembered the rules. Wading was allowed only to the agreed mark stone, always having a wading staff with me and wearing a life jacket. And I had a curfew when I needed to be back home – there was no negotiation about that.
Later I understand the strict rules. Water is a fun and intriguing element, but at the same time unexpected and dangerous.
Was there anything especially difficult about learning to fly fish?
In the beginning it was difficult to cast far. Also knowledge of the river and potential fishing spots were not easy to comprehend, as I was so young.
Casting only got better by casting. When I got older it helped when I gained a bit more power to cast better. The knowledge of the river I learned by watching and following other anglers.
What's your favorite place for fishing?
One of the favorite places I have fished is Sidorovka River in Kola Peninsula. I have so many awesome memories and stories from that place.
What's your favorite fly?
Usually I try to use such fly that would potentially catch a fish at that time of day and year. But a dry fly and a strike on a dry fly is just always something unique.
What is your top fly fishing memory?
If I had to pick one, it would be a fishing day at Koitelinkoski Rapid in Kiiminki, Finland, when I was around 13-15 years old. Water was really low and I was fishing grayling with dry fly. By a fire place I met a more seasoned fisherman (around 30-35 at the time). He told me some fishing stories and gave me few flies when I told that I'm after the graylings feeding from the surface.
I tied on a small caddis fly he gave me and it didn't take long for a fish to sip the fly underwater. I lifted the rod tip and set the hook. I was already celebrating in my mind for a new grayling record.
The fish floated down the river calmly and I followed it under a bridge and I was just hoping that it would stay on the hook. When the fish swam towards me and I saw its white corner of the mouth I realized it is a trout. I think the fish also saw me and stormed downstream. I played the fish for quite some time before it started to show any signs of surrender. Finally my friend got the fish in a net, and right the very second the air was filled with a happy cry.
I was astonished how such a small fly could bring in such a big trout.
I right away went and thanked the man who had given me the fly. I don't know who he was, but would be awesome to meet him once again.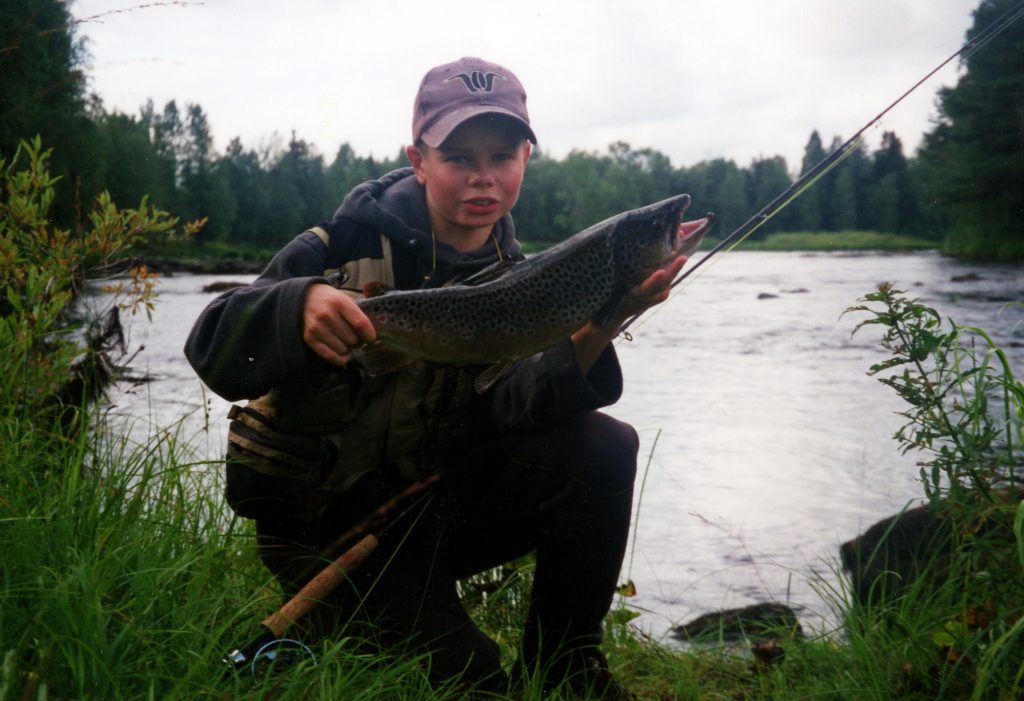 Do you have a fly fishing related dream or goal?
I have many specific fishing locations on my dream list.
Also a real dream would be to get our fishing waters in Finland and our vulnerable fish species in better condition. A great dream would be to catch a wild salmon or sea run trout from Siikajoki River, where I started my fly fishing hobby.
Would be great to get a job that got something to do with fishing or fly fishing.
What makes fly fishing so special?
For me fly fishing means a way of life and an actual lifeline. It's a big part of my life which includes good friends, relaxing, nature, rejuvenating and the peace and happiness that comes from this hobby.
What's great about fly fishing is that you are never good enough and you always learn something new.
There is something special about fly fishing. I play floorball as a semi-professional player and it is always all about competing and winning. I have been asked often why don't I start fishing in competitions. The answer is simple.
I want to keep competing and fly fishing separated.
At the river I can enjoy the water, nature and great moments. Walk to the next spot as slowly as I want or not to walk at all if I don't feel like it. That's what makes it so great.
There is so much special about fly fishing, and the main character is the fish. How it moves, why it eats or doesn't eat. And fishing for salmon is such a mystery at times.
For me the moment when a fish takes my fly just never gets old. It's always such a great feeling.
Also meeting other fishermen is always special.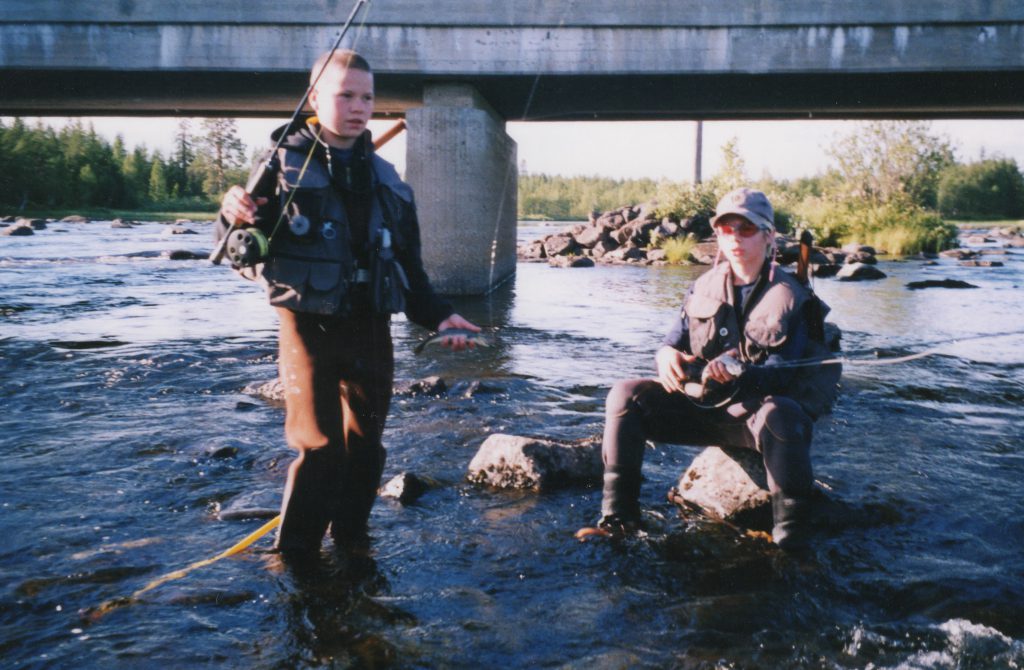 Jyrki's TOP 5 TIPS for Learning fly fishing:
Be kind and considered to other anglers
Talk with people and listen for advice
Stop for a while, have a sip of cognac and learn to read the river
Internet is full of fly fishing videos
Enjoy and live in the moment
---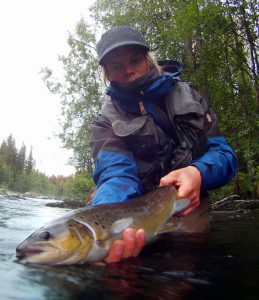 WHO:
Jyrki Holopainen
Semi-professional floorball player from Finland
Started fly fishing at the age of 9
Member of Fellas Fly Fishing
Facebook:  www.facebook.com/Fellasfishing/
Instagram: @fellasflyfishing
instagram.com/fellasflyfishing/
---
In this article series you get to know and learn from fly fishing enthusiasts around the world. Find out how they got started with fly fishing. And what makes them so enthusiastic about fly-fishing.
With a backstage pass you get access to the whole article series plus a whole lot of awesome tips from these pros. 
Get your Backstage Pass here: