Interview of Jasper Pääkkönen by Anni Yli-Lonttinen
Seeing a box full of flies as a boy was like opening the Pandora's Box. From there on Jasper was begging for his own fly tying equipment and fly fishing gear.
Overtime the focus switched from the catch to enjoying the nature with good friends. Here and there someone also catches a fish.
Difference with fly fishing compared to anything else is that it is so holistic; it defines the person's identity. Fly fishing is a lifestyle.
Together with my fishing buddy we started a charity campaign at Superflies.com where we donate 1€ per fly to an amazing nonprofit organization called Virho. They restore trout spawning grounds and take down small dams to open migration routes.
A donation of 1€ per sold fly means that we don't make any money with the flies ourselves: it's purely a feel-good campaign for our fisheries.

We have a selection of over 100 fly patterns, and keep adding new ones constantly to the campaign.

👉 Click here to see the campaign page in Finnish and in English.
Jasper Pääkkönen, how did you learn fly fishing?
My first memory relating to fly fishing is from Sweden, where I remember seeing two men fishing from a boat. I was amazed and was wondering what they were doing, because I was used to seeing people casting a heavy lure. Looked like these fishermen were casting only a line. The esthetics of the cast and movement of the line mesmerized me.
Sometime later in Kuhmo Finland, I met a fisherman called Timo Kilponen, who showed me flies that he had tied himself. That fly box was like Pandora's Box, and after that incident I started to beg for my own fly tying equipment and fly fishing gear.
My father wasn't a fly fisherman, so he couldn't teach me. But I was stubborn enough, so I decided I can learn on my own. When I was 11 I got my first fly tying set, and half a year later fly fishing equipment when my parents had seen that I'm serious about learning to fly fish.
Did you have someone to teach you fly fishing basics?
I had to learn on my own. I read the theory from books and then went to practice casting and tried to remember what I had learned from the books. I didn't mind the learning phase. I thought it was all very interesting rather than difficult or frustrating. Before heading out to the waters I practiced casting first at our home yard and then on the pier at our summer cottage. The first actual fishing memories that I can recall are those when I hooked fish.
I never attended actual fly fishing course.  But when I started to get the hang of the fishing and was catching few fish, also my father got interested of fly fishing. I tried to teach him how to tie flies, but it was a bit frustrating. So we decided to go to a fly tying course together.
The teacher at that course was Veli Autti. At the time he was tying flies on a national TV commercial which showcased talented artisans. My friends at school couldn't believe that I was taught by the same person. The group on that course was such a great bunch, that we ended up founding the Helsinki Fly Fishing Club. Sometimes I still do meet Autti by the river, and those days are a fun to look back at.
Was there anything especially difficult about learning to fly fish?
I cannot remember any specific thing that would have been difficult. Maybe I was so fanatic and passionate to learn that all the challenging parts were just interesting and intriguing.
I do remember the frustration in the beginning if I hooked a fish and it got away. Quite a few fish did get away before I had the first one in my net. That part was difficult and frustrating.
What's your favorite place for fishing?
One easy answer right now is the Kola Peninsula in Russia. For many summers I've had the chance to take a trip there with good friends. In a way it is not very far away, but when the helicopter takes off from Murmansk there is no cell phone signal after that. That sort of withdraw from the every-day-life is difficult to find these days. In the rivers of Kola Peninsula, you are hundreds of kilometers away from the closest road or the outside world.
As a fisherman I rather focus on quality than quantity. I happily put my money and time on one week of fishing in Russia.
What's your favorite fly?
I love to fish salmon with a dry fly. I've caught my two record salmon with it. I like both bomber and surf board. The moment when you get a huge salmon to rise for your fly is just magical.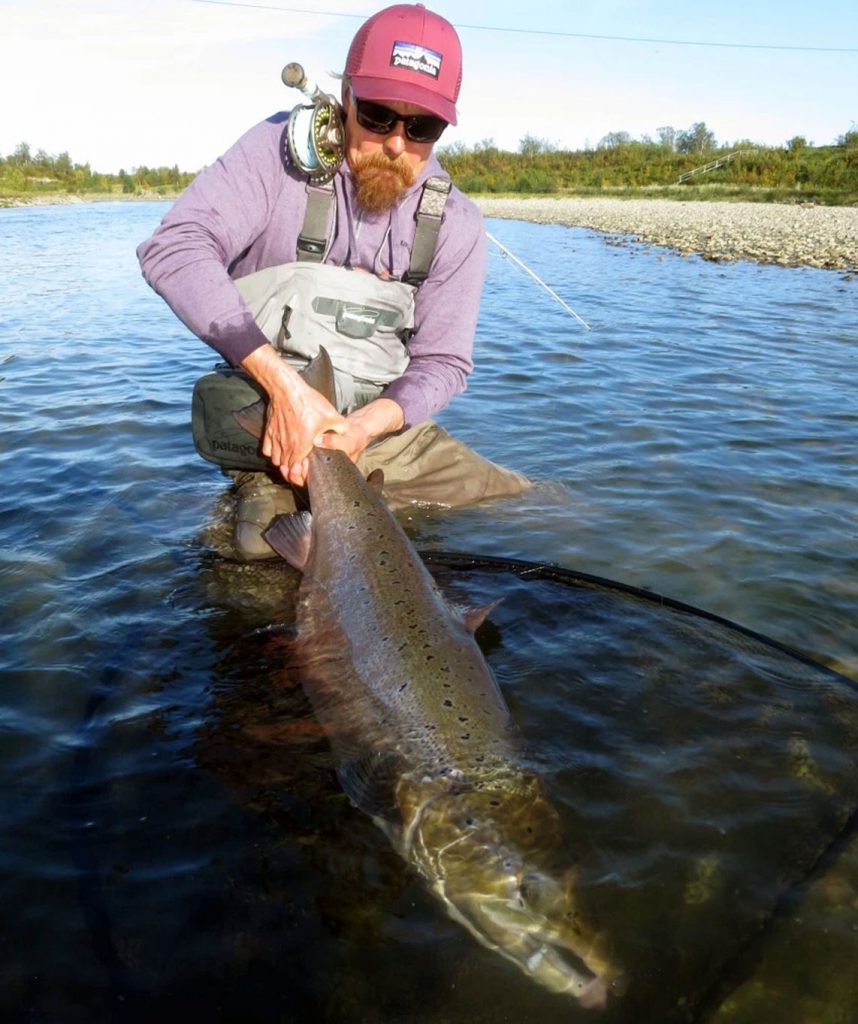 Do you have a fly fishing related dream or goal?
There's a lot of fly fishing places to dream about. Both tropical waters and salmon rivers and everything in between. Some are possible and some are just out of reach for us normal mortals. Money is often the final barrier with this hobby.
I think every fly fisherman dreams of getting to go to Alta in Norway. Some get lucky and the rest of us dream on.
What makes fly fishing so special?
The meaning of fly fishing has changed for me as the time passes. Nowadays it means getting together with good old and new friends with a common passion, spending time in the pure nature far away from everything else. Some of these friends I know from the very early days when I started to fish and still it is fly fishing that brings us together, even if we don't have a chance to meet other vice.
The part of actually catching a fish is not the number one focus anymore. Spending time and joking with friends and sharing stories over the fire pit carry more weight these days. And here and there someone catches a fish. That's what it's all about.
What is different with fly fishing compared to anything else is that it is so holistic, it defines these enthusiasts. Being a fly fisherman is big part of my identity, and same seems to apply to many others. Fly fishing is a lifestyle.
Jasper Pääkkönen's

TOP 5 TIPS

for learning fly fishing:
Patience! That is an important trait for a fly fisherman. The charm of fly fishing comes from that it's not meant to be easy.
If you get a teacher to show how it's done, that is quite a shortcut to happiness. Either a friend or a beginner's course.
Repetition for the casting practice. It is important, so when you find a rising fish you don't then need to practice casting and spook the fish.
Practicing goes hand in hand with you starting to get the hang of the hobby in general.
Carry out the tip number 3 in real life! So many people agree and say that, yes, it's a good idea to practice casting but then they forget it or just never get to it.
---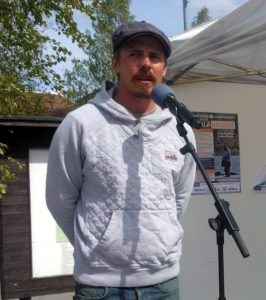 WHO
Jasper Pääkkönen
Actor and fly fishing enthusiast from Finland
Started fly fishing at the age of 11
Favorite fly: dry fly for salmon
Favorite place for fishing: Kola Peninsula in Russia
---
In this article series you get to know and learn from fly fishing enthusiasts around the world. Find out how they got started with fly fishing. And what makes them so enthusiastic about fly-fishing.
With a backstage pass you get access to the whole article series plus a whole lot of awesome tips from these pros. 
Get your Backstage Pass here: