Interview of Janne Pesonen by Anni Yli-Lonttinen
On my very first fly fishing trip a trout jumped high in the air to catch my fly before it even landed the water. Amazed, I thought to myself, that can it really be like this?
Besides the books, advice and practice,  I used a mental training to become better at fly fishing. After each success I played it in my head and tried to think what had I done to catch the fish.
Even getting to tie flies in the winter, takes you out from the everyday hassle, and that's almost as good as getting to go fishing.
---
Article series:
Meet the Fly Fishing Idols
– stories and lessons from the yesterday's beginners
---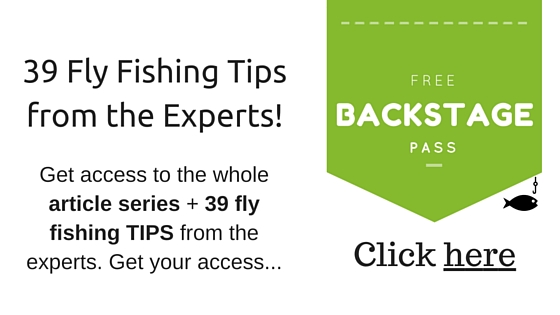 How did you learn fly fishing?
At first the enthusiasm began from when we lived in Kuhmo, Finland near Pajakkakoski Rapids. The very first fishing memories I have are from when I tried to catch small fish from the beach with a net. I then got my first fishing reel when my mother had marveled at the net fuss for a while.
I saw fly fishermen at the river, and I wanted to try out what they were doing.
A family friend who was fly fishing took me with him and borrowed the equipment for my first fly fishing trip, and the second time I already had my own equipment with me. So it struck immediately.
At my first fly fishing trip, when I was 10-11 years old, I caught about a 37 centimeter long trout. That set off a spark that hasn't faded.
The enthusiasm continued and I was fishing with flies and lures also. At first I felt like I got more fish with the lure. At the beginning lure fishing seemed more effective, which is why it remained along. But little by little my interest shifted more and more to fly fishing which felt more meaningful. If the fish didn't come I still had my lure box with me just in case.
Today there's not much of a difference in effectiveness but on behalf of challenge and meaningfulness fly fishing wins these days.
Did you have someone to teach you in the beginning?
In addition to the loaned gear, I also got to learn the basics from a family friend. After that I pretty much learned from self-studying, reading books and papers and asking other fishermen for advice.
Later when two-handed rods came along I got a lot of tips and hands-on advice for casting from the more experienced fishermen.
Much of the knowledge I got from watching and following others and then trying to copy what I saw.
I used to go fishing with my uncles a lot, but I didn't actually learn fly fishing from them. I might have actually force it upon them and both have tried it and they like it.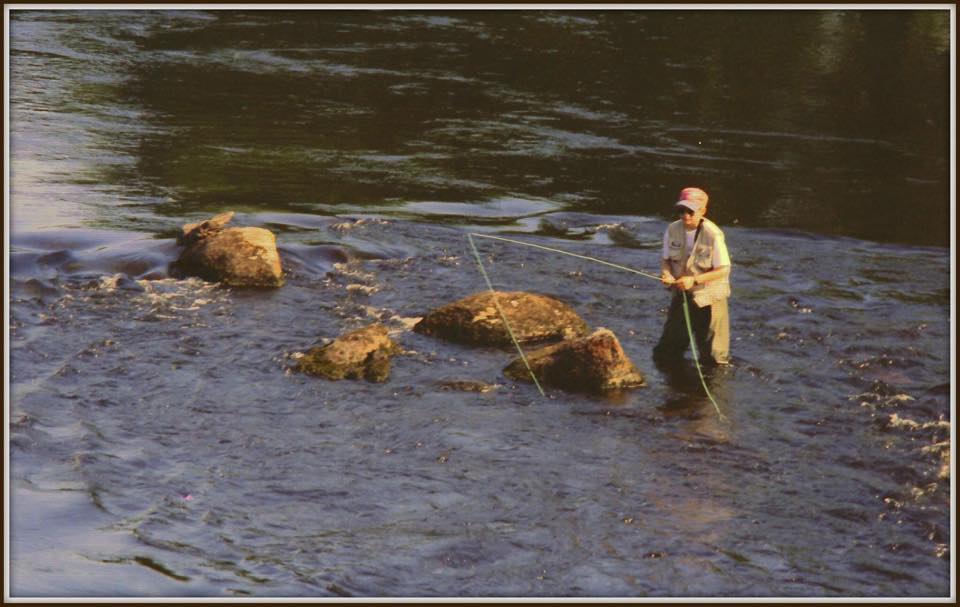 Was there anything especially difficult about learning to fly fish?
Casting was a challenge in the beginning. Fly tying was difficult too, but we practiced together with friends and went fishing together. That was a good way to learn from each other.
Also the presentation, to get the fly to swim the right way was challenging. And that still needs improving.
A good way to learn is a mental practice. After each success I played it in my head and tried to think what had I done to catch the fish.
Still today the best way to fall asleep for me is to think over previous successful fishing events and live again each detail. It is so relaxing but you are still learning at the same time.
What's your favorite place for fishing?
Kuusinkijoki River in Finland has been one favorite since I was a small boy. The scenery, the excitement when I got to go there with my uncles and the few nice trout caught build up the myth of the place in my mind.
What's your favorite fly?
One favorite is difficult to choose. A green larva has been my most effective one. Last summer it caught me my record trout of 75 cm.
Also a fly called Pajakkaperho is special for me. Because of the name which refers to my home waters.
What is your top fly fishing memory?
On my very first fly fishing trip to the Akonkoski Rapid in Kuhmo –Finland, I was still learning the whole sport. There I was casting and my fly was still 20 centimeters above the water, when a trout jumped to catch it. It was such a memorable moment, although the fish got away at the end. I was just amazed and thinking to myself, that can it really be like this.
Also a 106 centimeter salmon from Sidorovka – Russia, which I caught with a dry fly, is one of the top memories.
Do you have a fly fishing related dream or goal?
New Zealand and Argentina are places where I would want to go fishing.
I got a spark for salmon fishing few years ago, so there are some dreams related to that too.
What makes fly fishing so special?
From the beginning just watching the fly fishing had some special charm, and it still is nice to watch someone casting a fly. It calms the nerves, and casting is an art that must be focused on in itself. Part of the charm of casting is that the cast can always be improved.
The pondering of the fly collection was interesting from the beginning, because when catching a trout, the fly imitates the real food of the trout. I also tried to think about and develop new flies and mimic the trout's food by myself. Fly tying continues to be an essential and interesting part of fly fishing for me.
Sometimes when you just get to tie flies in the winter, you feel you get out from the everyday hassle, and that's almost as good as getting to go fishing. Since you are planning your next trip in your mind when tying flies.
With fly fishing you can do everything right and perfect, but still the fish doesn't take. It's not all about yourself. That aspect of unexpectedness makes it so intriguing. That focus and immersion takes your mind of other things.
Fly fishing is something that gets you so carried away. I can't really compare it with anything else I do or any other hobbies.
Janne's TOP 5 TIPS for Learning fly fishing:
If you can have somebody to teach you in the beginning that's great. Then you can ask for advice and your enthusiasm doesn't fade away with frustration for details that can grow into a barrier.
It's a good idea to join a fly fishing club, so you have other anglers around and you can ask for advice.
I recommend reading books and magazines. That's essential part or the hobby to have a bit of thirst for knowledge.
Try to come up with solutions for different fly fishing situations on your own. It is really rewarding when you figure out something on your own.
Practices fly casting, for example on the backyard. That way you can focus on fishing, not learning casting when you are at the waters.
---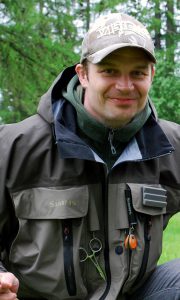 WHO:
Janne Pesonen
Finnish professional ice hockey player and enthusiastic fly fisherman
Started fly fishing at the age of 10
Currently plays at Skellefteå AIK in Sweden
Ice Hockey World Champion from 2011
---
In this article series you get to know and learn from fly fishing enthusiasts around the world. Find out how they got started with fly fishing. And what makes them so enthusiastic about fly-fishing.
With a backstage pass you get access to the whole article series plus a whole lot of awesome tips from these pros. 
Get your Backstage Pass here: